Or Ami Bagel Sale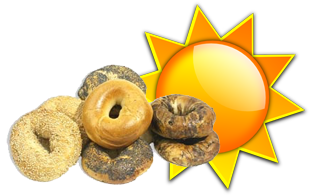 Get your fresh bagels every Sunday that school is in session!
Please enter your information and follow the link at the bottom of the page to pay for your bagels. Orders must be placed and pre-paid online by Wednesday for Sunday delivery or by check with order form (click here for form).
Please indicate "half" where you want a half dozen.
(Minimum half dozen per flavor for online orders.)
Finished ordering your bagels? Pay for them now so they will be ordered and fresh for pickup this Sunday! (Bagel orders must be paid by Wednesday to be available for pickup Sunday morning.)