Jewish Links
Local Links

Mosaic Outdoor Club of Houston


A great way to spend time with other Jews who enjoy the outdoors

Interfaith Ministries of Greater Houston


3303 Main St. Houston, TX 77002
(713) 533-4900
The Strength Of Shared Beliefs Bringing people of diverse faith traditions together for dialogue, collaboration and service.

Keshet Houston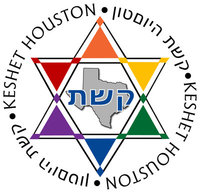 Keshet Houston is an organization of Jewish gay men and lesbians in the Southeast Texas region. We get together for social and spiritual activities on a regular basis. For more information, email us at keshethouston@gmail.com or call 832-429-5392
 Houston, Texas and the Region
Kashrut

Kashrut.com: The Premier Kosher Information Source on the Internet
This is truly an amazing site. Wines, foods, halakah, restaurants- you name it, they got it!

Kosher Living
Houston Kashruth Association (HKA)
(713) 517-3990 http://www.kosherhouston.org/
Torah Vachesed Kosher (TVK)
(832) 659-5504 http://torahvachesed.com/Torah Vachesed Kosher.html
Kosher Eateries
Restaurants
Café at the J
5601 S. Braeswood, Houston, TX 77096
713-729-3200 x3286
Madras Pavillion
3910 Kirby Drive, #130, Houston, TX 77098
713-521-2617
Saba's Kosher Pizza
9704 Fondren Road, Houston, TX 77096
713-270-7222
Super-Pita Bakery and Deli
9806 Hillcroft, Houston TX 77096
713-723-6400
Bakeries
Cake Creations
947 Pinemont, Houston, TX 77018
713-263-1952
New York Bagel – Only Bakery is Kosher
9724 Hillcroft, Houston, TX 77096
713-723-5879
Super-Pita Bakery and Deli
9806 Hillcroft, Houston TX 77096
713-723-6400
Three Brothers Bakery
4036 S. Braeswood, Houston TX 77096
713-666-2551
Supermarkets
Belden's
99 Braeswood Square, Houston, TX 77096
713-723-5670
H-E-B
5417 S. Braeswood, Houston, TX 77096
713-721-8781
Kroger – Kosher Deli
10306 Post Oak, Houston, TX 77035
713-721-7691
Randall's – Kosher Deli
4800 W. Belfort, Houston, TX 77035
713-721-0011