Youth Groups
United Synagogue Youth & Kadima
HOUJEW is Congregation Or Ami's USY Chapter for Jewish high school teens grades 9-12.  Members of our chapter attend local events including everything from pool parties to overnight lock-ins.  Our chapter is part of the Southwest United Synagogue Youth region, better known as SWUSY, and our congregation is proud to always have strong representation at the regional events.  The annual Fall Kallah and Spring Kallah weekends are only matched in enthusiasm by the Regional Convention every year.  We consistently have regional board officers from within our membership and are proud of our youth that take on that responsibility.  Many of our chapter's membership choose the national USY Israel Summer Programs for their Israel journey.  HOUJEW extends membership to all teens in Houston, regardless of other synagogue affiliation.
Kadima is the organiz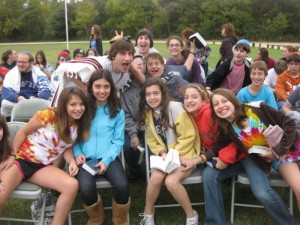 ation for middle school kids in grades 5-8. Grades 6-8 may attend all local events, the regional Kamp Kadima weekend in the fall and Kadima Convention in the spring. 5th graders may attend local events including the ever popular lock-ins and the Kadima Convention weekend regional event.
Rabbi Gideon Estes is a strong supporter of our Youth Programs at Congregation Or Ami and attends as many events as possible.  He frequently makes guest appearances at regional events, which reinforces our children's commitment to the program.  Our Education Director, Murray Adelstein also serves as our Youth Director.  He coordinates events with our Youth Committee Chair and chapter advisors to keep our chapter running smoothly and involved at both the chapter and regional levels.
For membership information, contact Murray at the Or Ami office at (713) 334-4300 or his email oramieddirector@gmail.com.